What is happening every minute on the WEB – 2018 version?
September 18 2018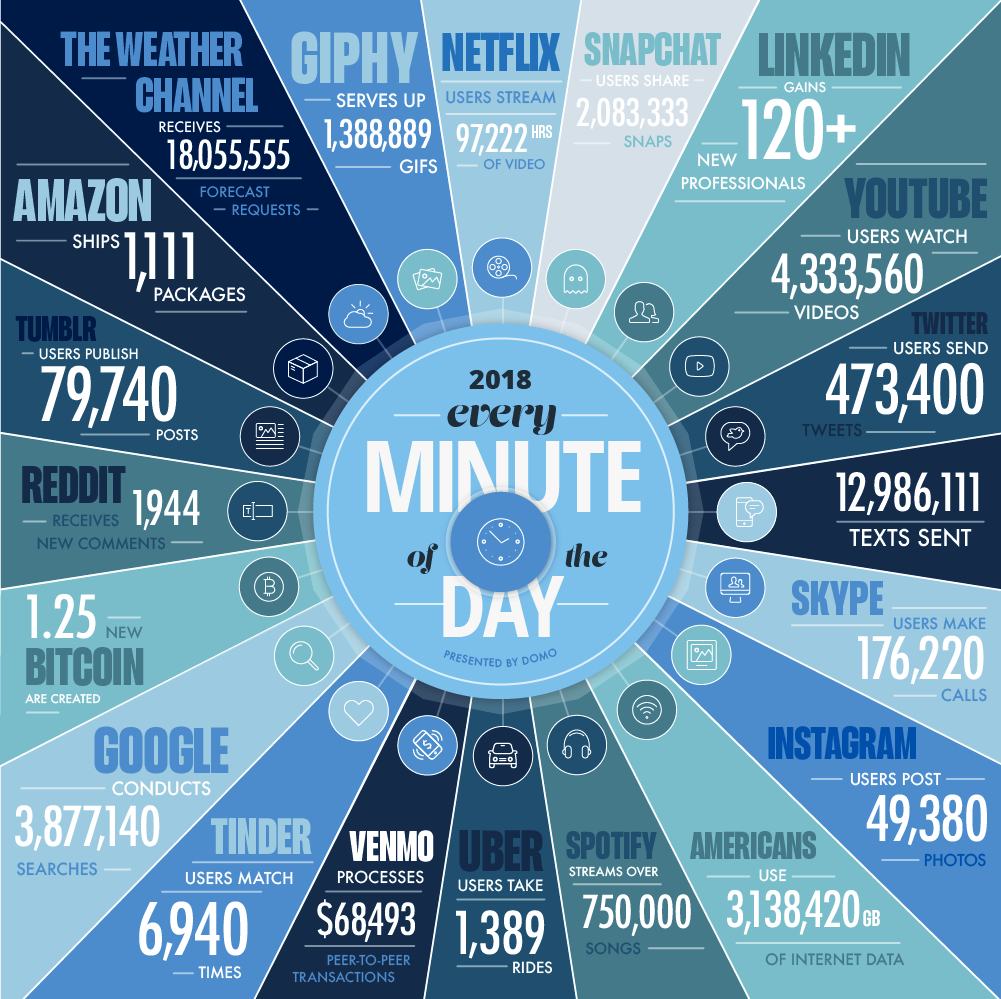 Compared to last year, Internet activities per minute have increased. Тhe numbers shown in the Infographic below are impressive, taking into account that they are valid for one minute only. What if we want to know the data for the whole year? Then the numbers become even more ridiculous. From the Infographic it can be noticed that every activity on the Internet is increased in 2018. The most remarkable and greatest rise has Netflix with total 266,000 hours watched.
A list of activities in one Internet minute for 2018:
3.7 million Google search queries
973 000 times users log in on Facebook
18 million text messages are sent
4.3 million videos are viewed on YouTube
375 000 apps downloaded on App Store and Play Store
174 000 users scrolling through Instagram
481 000 posts sent on Twitter
1.1 million swipes on Tinder
187 million emails sent
936 073 views on Twitch
67 voice-first devices shipped on Amazon
38 million messages sent on WhatsApp
25 000 GIFs sent through Messenger
2.4 million Snaps created
$862 823 spent online
266 000 hours watched on Netflix.
In its sixth year, Data Never Sleeps shows exactly how much data is generated every single minute, and how that data is fueling innovation.
Source: https://www.domo.com/learn/data-never-sleeps-6
Аll over the world, the Internet is easily accessible nowadays. Each year the numbers are increasing, so we expect the same for the next 2019 year.
You can check below the previous versions of "Data Never Sleeps" published back in 2011, 2014, 2016 and 2017 respectively.